Personalized Retirement Gifts for Women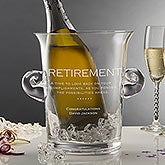 Personalized retirement gifts for her can be a great way to congratulate the new retiree. With some personalized gifts, you may be able to write a sentimental message or share a special piece of advice about this significant event in her life. Or you might just consider getting her some fun personalized gifts to help her celebrate her retirement.
Here are some personalized retirement gifts for women that you can consider:
Personalized Jewelry Box
For an older generation, the traditional gift for a retiree is a gold watch, but nowadays just about anything goes. But if you are considering going the traditional route and present her with a gold watch, then consider including a gorgeous personalized jewelry box to go along with it! A jewelry box would even work as a stand alone gift, maybe filled with her favorite candies or a gift certificate to her favorite lunch spot. Regardless, a personalized gift box is a creative gift idea that any retiring woman will appreciate.
Personalized Digital Picture Frame
A digital frame with a memory card full of great pictures of the retiree having fun can make a really cool and creative retirement gift. If it is a teacher retiring, then consider getting some old class photos to include with the slidehow. Or if it is a pilot, then maybe some pics of the pilot in her favorite places around the world. Whatever the occupation, surely there are some great photos to go along with it! Photos can be a fantastic way for retirees to reflect back on their career and a digital frame with a personalized message can be the perfect way to bring it all together.
Personalized Teacher Gifts
A special teacher who is retiring or may just transfering schools is a good time to acknowledge that teacher for her hard work. Many teachers receive gifts of baked goods throughout the year, so choosing to get the teacher a personalized gift can be a great way to make your present stand out. If your teacher is retiring, then there are a lot of nice teacher retirement gifts that she could use outside of the classroom. Or if you have a favorite teacher who is just leaving for another school, then consider a fun personalized gift that is appropriate for her new classroom.
Personalized Robe
Now that's she retired, there will be no more dress code! A personalized bathrobe can be a funny way to celebrate her retirement. You can even write "New Uniform" or "New Dresscode" on her retirement card because who wouldn't want to just lounge around in a robe all day?! And instead of her name, you might consider writing "Couch Potato" or "RETIRED!" on it, so that every time she wears it, she will be reminded of her farewell gift.
And Personalized Slippers!
Personalized slippers can make a great companion gift to a personalized bathrobe. No more high heels or uncomfortable uniform shoes! Now she can wiggle her toes freely and wear house slippers all day if she wanted to! Which for some women, can be one of the best perks to retirement!
Personalized Travel / Beach Bag
Any retiree can probably attest that retirement means more time to travel, whether it's around the world or simply down the street to the beach. So a cute bag or tote can make a great personalized gift for her that will be sure to get her going! Many totes are so versatile, so she'll definitely find a good use for it, and with her name on it, there will be no mistaking who the bag belongs to.
Personalized Gardening Gear
Personalized gardening gear can make the perfect gift for a woman who is already looking forward to spending more time outdoors tending to her garden. Along with some personalized gardening gear, you might want to include some gardening tools or even some seeds or bulbs of her favorite flowers.
Personalized Picture Frame
A personalized frame can be perfect for a co-worker who is retiring. If you are close with the co-worker, then you might engrave the frame with a funny message about your favorite lunch spots or happy hour places. A personalized frame can even be a special gift given to the reitree from her department or favorite group of water cooler divas.
Personalized Picnic Gear
With no more time clock, she can have a picnic lunch -- every day! So surprise her with these fun personalized picnic accessories. Another advantage to having picnic gear is that she can use the accessories for traveling, outdoor concerts, the beach, camping, hiking, tailgating - the list is endless!
Personalized Travel Gear
There are so many cute personalized travel accessories that you get for the new retiree that she will love! Consider cute luggage tags, passport holders, or even a simple, but useful, shoe bag! Travel retirement gifts, personalized or not, can be a really thoughtful way to both congratulate her and to get her excited about her upcoming travel adventures.
Engraved Plaque / Award
Engraved retirement gifts can be a wonderful gift that the whole office can chip in for. A special message reflecting on her time at the workplace would be a great way to remind her that she was a valued employee. Or if you want to give her a silly retirement gift, you can consider engraving a really nice plaque with a funny quote, signed off by all of her friends at work! So from afar the gift will look really nice, but upon closer inspection it will reveal a humorous quote.
Personalized Bookmark
A personalized bookmark can make a simple gift for a new retiree, especially if she is a retiring librarian, bookseller, or even an editor. A reader and a writer would appreciate the sentiment of a personalized bookmark. If she is a true bookworm, then along with the bookmark, you might consider a gift certificate to a local bookstore.